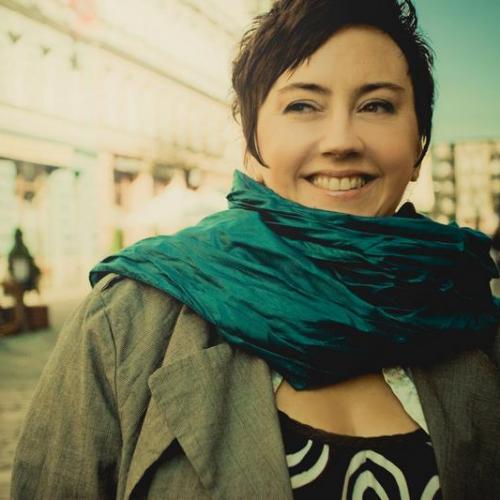 A jazz vocalist, a pedagogue and a conductor, she is a graduate of the Department of Choral Conducting of the Academy of Music in Poznań and Singer's Music College in Poznań.
In the years 1996 – 1997 she was granted a scholarship by the Stefan Batory Foundation, as well as by the renowned Berkley College of Music in Boston. In the USA she studied primarily jazz vocals and improvisations under such renown masters as Bob Stoloff (author of Vocal Improvisations, in the 80's he collaborated with Bobby McFerrin's Vocal Summit) and instrumental arrangements under Richard Evans (whose arrangements for Natali Cole, among others, made him famous). Moreover, she also collaborated at the time with Denis Montgomery III, a Berkley faculty member, a gospel vocalist and arranger.
Jola Szczepaniak is the laureate of the International Meetings of Jazz Vocalists in Zamość (1992), Music Festival in Elbląg (1994), French Song Festival in Poznań (1994), Jazz on the Oder Festival in Wrocław (1995). She performed numerous times at the Pomeranian Jazz Autumn Festival in Szczecin, at the Song of Songs in Toruń and Bosman Jazz Festival. She also took part in the debut tournament at the National Festival of Polish Song in Opole in 2005. In 2004, with the vocal band "Basanda"she was the leader of, she won the Grand Prize at the international Gospel Music Festival in Osiek. Jola Szczepaniak has given numerous concerts in Germany, the USA, Denmark, Italy and Ireland.
She has performed with the leading Polish jazz musicians, such as: Andrzej Jagodziński, Krzysztod Herdzin, Kazimierz Jonkisz, Marcin Pośpieszalski, Mieczysław Szcześniak, Marek Kazana, Marcin Jahr, Piotr Wrombel, Zbyszek Wrombel and Michał Kulenta. She has completed many music projects and took part in a number of phonographic recordings, to name just a few: "Kolędy" with Edyta Gepert (Debiutanci Opole – Warszawa 1995), "Mój Jezus" (Deus Meus – Szczecin 1996), "Nha Pensamentu" (Boston 1998), "Wiatr w ciemnościach" (Snuz - Szczecin 1998), "Missa Gospel" ( Szczecin 1998), "Zawsze Polskie Kolędy" (Bydgoszcz 2004), "Jahwe" (Szczecin 2005), Deus Meus - Trasa (2006).
Nowadays she works as a vocal teacher at the Jazz and Stage Music Department, music high school in Szczecin, and as an assistant in the Szczecin Academy of Art.
Her album debut took place in autumn of 2010 with the solo album titled "Babagada".