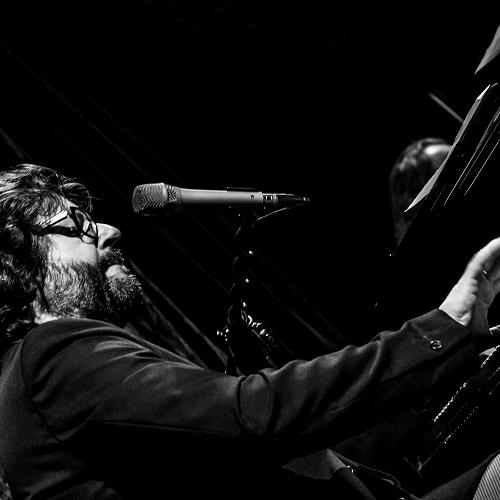 GRZEGORZ TURNAU
Polish artist, arranger, pianist, composer, singer and poet, performer of sung poetry. He created his own style of music and compositions, sometimes referring to jazz music, smooth jazz, and the achievements of Marek Grechuta and Jan Kanty Pawluśkiewicz.
His best known songs include, among others: "Znów wędrujemy", "Naprawdę nie dzieje się nic", "Cichosza", "Między ciszą a ciszą", "Pamięć", "Bracka", "To tu, to tam", "Tutaj jestem" (lyrics by Michał Zabłocki) "Wiem" (lyrics by Andrzej Poniedzielski) "Liryka, liryka" (lyrics By Konstanty Ildefons Gałczyński) "Kawałek cienia" (lyrics by Grzegorz Turnau), "Leniwa głowa" (lyrics by Wiesław Dymny), "O, Kutno" (lyrics by Jeremi Przybora), "Bombonierka" (duet with Barbara Stępniak-Wilk, lyrics by Barbara Stępniak-Wilk, music by Aleksander Brzeziński).
Grzegorz Turnau released the following albums: "Pod światło" (1993), "Turnau w Trójce" (1994, live recording), "To tu to tam" (1995), "Tutaj jestem" (1997), "Księżyc w misce" (1998), "Ultima" (1999), "Kołysanki utulanki" (2001, feat. Magda Umer), "Nawet" (2002, feat. Giorgos Dalaras), "Cafe Sułtan" (2004), "11:11" (2005), "Historia pewnej podróży" (2006), "Do zobaczenia (2009, CD+DVD, videos, extras), "Fabryka klamek" (2010), "Och!Turnau Och-Teatr" (2011, CD+DVD live) 5 off-broadway albums: "Turnau Sindbad" (2002, songs and music for theatre), "Zakochany anioł" (2005, film music and songs), "Kruchy świat, kruche szkło" (2007, feat. Wojciech Malajkat), "Pasjans na dwóch" (2007, live recording feat. Andrzej Sikorowski), "Ino" (2010) Grzegorz Turnau cooperated with the following artists: Ewa Małas-Godlewska, Anna Maria Jopek, Dorota Miśkiewicz, Jan Kanty Pawluśkiewicz, Zbigniew Preisner, Jacek Wójcicki, Beata Rybotycka, Andrzej Sikorowski, Stanisław Soyka, Aleksander Glondys, Justyna Steczkowska, Magda Umer, Ola Maurer, and Wojciech Waglewski. He is also a composer of theatre and film music (e.g. for the film Zakochany Anioł (Angel in Love)). Furthermore, Grzegorz Turnau cooperates with the actors: Wojciech Malajkat and Zbigniew Zamachowski.
He has been awarded the following prizes: Golden Cross of Merit, Medal Gloria Artis, Honorary Citizenship of the City of Inowrocław, 9 Fryderyks (prizes of Polish Phonographic Academy), 2 Wiktors (prizes of Polish Television), Grand Prix of the Opole Festival, Mateusz (prize of the Third Programme of Polish Radio), 2 Superjedynkas (prizes of Polish TV and Radio), and other prizes.